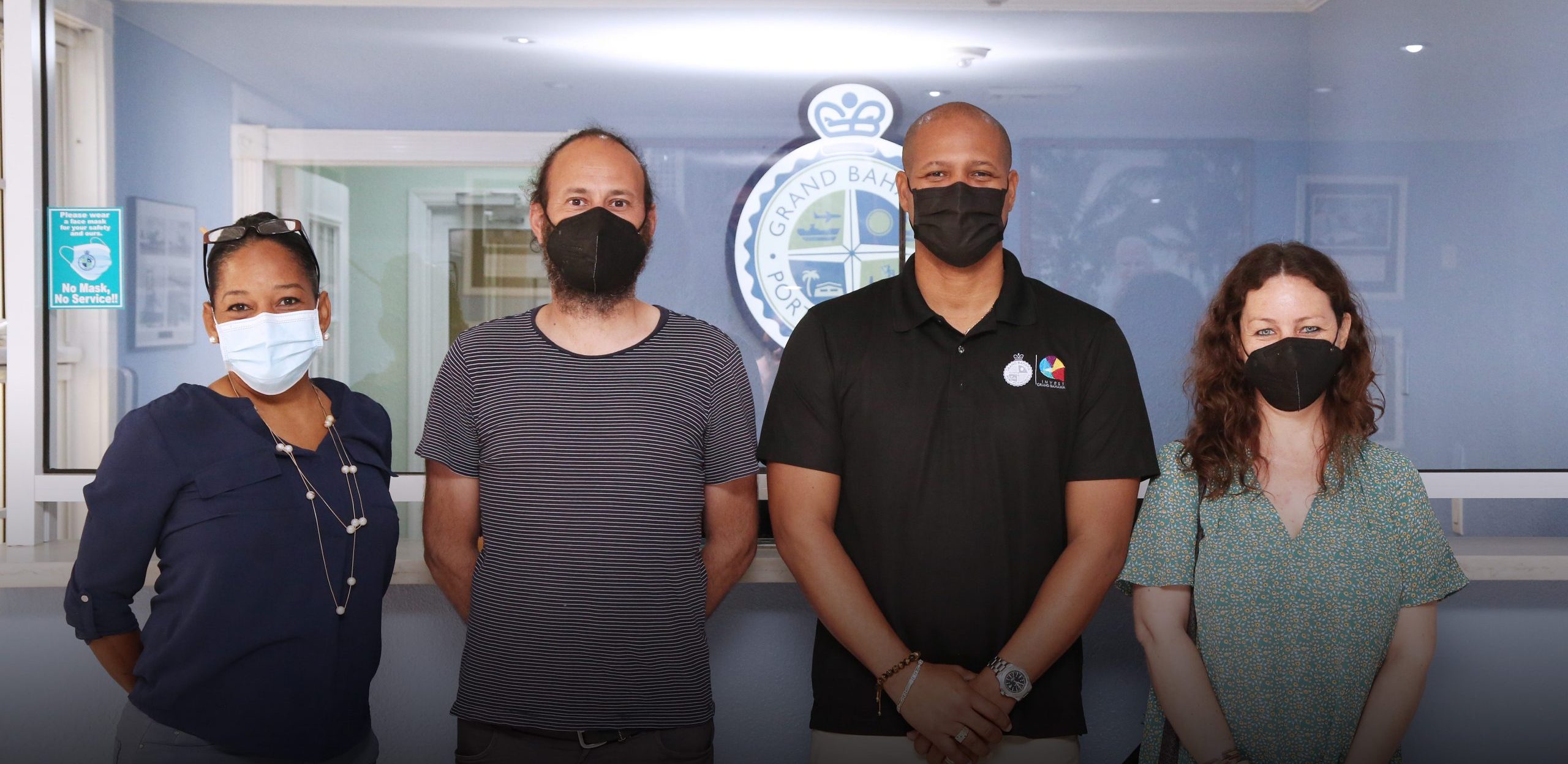 Pictured: American Red Cross representatives visited with GBPA's Business Development team recently to discuss the RISE Grant Initiative. Pictured from left to right: LaShawn Dames, GBPA Business Services Manager; Alejandro de Castillo, Senior Shelter & Wash Coordinator and Lead Consultant, AmRC Evaluation;  Derek Newbold, Sr. Manager of Business Development for GBPA & Invest Grand Bahama, and Irene Cabrera, Irene Cabrera, Sr. Operations Manager and Principal Consultant, AmRC Evaluation.
Tuesday, 13th July, 2021 – Freeport Bahamas – Representatives of the American Red Cross (AmRC) were on Grand Bahama Island recently, interviewing various organizations and businesses to evaluate the effectiveness of AMRC's recovery response to Hurricane Dorian. The team paid a courtesy visit to The Grand Bahama Port Authority Limited (GBPA) and its Business Development Department to discuss the organization's participation as an implementing partner of the  Restoring Industries, Sustaining Employment Grant  initiative (RISE).
RISE launched in December 2019, as an economic recovery initiative bringing much-needed financial support to hundreds of micro, small, and medium-sized businesses across Grand Bahama, which suffered significant losses as a direct result of Hurricane Dorian.
Derek Newbold, Sr. Manager of Business Development for GBPA and Invest Grand Bahama, and LaShawn Dames, Business Services Manager, met with the AmRC team to discuss the RISE Grant program and GBPA's role as an implementing partner.
"The RISE initiative came about as a direct result of GBPA's post-hurricane assessment of nearly 2,000 Licensees, which revealed some very sobering data. More than 70% of licensees were either uninsured or underinsured; about 55% suffered significant damage due to massive flooding, and while 60% of businesses had re-opened within one to two months of Dorian, most struggled to procure new inventory or replace damaged equipment and tools. The assessment overwhelmingly confirmed that access to capital was their greatest challenge," Newbold cited.
"As GBPA began mapping a strategy for an economic recovery program to support our Licensees, we connected with a Mercy Corps program manager supporting water restoration activities, who felt that there might be an opportunity to collaborate on an economic recovery program. The rest is history, as they say," Newbold continued.
He noted that GBPA has enjoyed and appreciated a very productive and beneficial relationship with Mercy Corps that has resulted in tremendous support for not only GBPA Licensees but for businesses across the length and breadth of Grand Bahama.
AmRC representatives Alejandro de Castillo and Irene Cabrera also visited other organizations such as the Chamber of Commerce and numerous grant recipients to gather feedback from them as well.
"As part of the Evaluation Team of the American Red Cross Dorian Recovery Program, we had the opportunity to visit the GBPA and meet with LaShawn Dames and Derek Newbold," explained Irene Cabrera, Principal Consultant, AmRC Evaluation and Sr. Operations Manager.
"We had a very productive encounter with them that helped us to better understand Dorian's impact on the island of Grand Bahama, and the repercussion of the RISE program giving support and helping a multitude of businesses to be able to return to activity and to recover their livelihoods after the hurricane.
GBPA was very supportive of the evaluation process and contacted other partners also involved in the response, and recipients of the aid. These additional contacts allowed us to have first-hand information of the support provided to their business. It was a very fruitful and pleasant visit in which we received excellent treatment. Our sincere thanks to LaShawn and Derek."
The RISE Grant was a partnership initiative between GBPA and Mercy Corps as implementing partners, with the generous financial support of the American Red Cross and Bacardi. The program supported approximately 261 businesses throughout Grand Bahama with economic recovery grants of up to $10,000. The program also provided business resiliency training in Business Strategy, Finance Management, Social Media Marketing, and Disaster Preparedness. As of its official closing in March, over $2.5M has been invested into local businesses, sustaining more than 300 jobs.
"Together with Mercy Corps, GBPA designed and implemented a comprehensive economic recovery program, serving as the benchmark for future undertakings," explained Newbold. "While effective grant programs stem from strong partnerships, and strategic planning, it is the diligent monitoring and evaluation of outcomes that speak to the success or failure in achieving the program's objectives. RISE was an enormous effort, and strong partnerships were critical to its success. No one organization could have done it alone, considering the program's scale and desired outcomes. The success and value of its impact can be seen clearly throughout the business community." Newbold concluded.
###