Under the theme, "Forward Momentum," the 2023 SeaTrade Global Cruise Conference kicked off with an exciting start. Representing Grand Bahama was a twenty-member delegation led by The Grand Bahama Port Authority, Limited (GBPA), comprised of key stakeholders within the tourism and business community attending the event.
At the State of the Industry Opening session, PierFrancesco Vargo, Executive Chairman of the Cruise Division for MSC, in his keynote address, spoke to the ever-increasing global demand for cruise tourism and the 30 million world cruise passengers today is projected to grow to 39 million in the next two years. He also highlighted the industry's enormous commitment to sustainability, reducing emissions, LNG, waste treatment, recycling, and connections to shore power, so much so that cruise ships are probably now the greenest large-scale transport of tourists, in addition to offering the best experience, at the best value for money. Moreover, 60% of cruise passengers visiting a country by cruise will likely return for a second time. Also on the panel were Carnival CEO Josh Weinstein, Royal Caribbean CEO Jason Liberty, Norwegian CEO Frank Del Rio, and Kelly Craighead, President and CEO of CLIA .
This year's conference was hosted at the Broward County Convention Center in Ft. Lauderdale, Florida, beginning March 27th through 30th, bringing together thousands of maritime industry leaders, cruise line executives, travel professionals, investors, as well as industry vendors, and suppliers worldwide. It provided a unique and favorable opportunity for GBPA to showcase the latest opportunities and developments happening in Grand Bahama.
The Invest Grand Bahama team used the event to highlight the many advantages of doing business in Grand Bahama, including the island's robust and growing tourism sector, shipping and logistics infrastructure, competitive tax regime, and skilled workforce. Invest Grand Bahama's exhibit emphasized the ongoing developments in Grand Bahama, featuring the cruise sector and other critical infrastructure projects that will enhance its position as a leading destination for investments.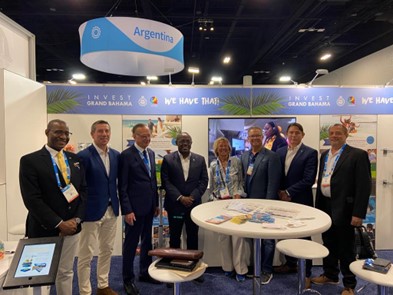 Sarah St. George, Vice-Chairman of GBPA, expressed her excitement about the event, stating, "We are thrilled to be exhibiting at the SeaTrade Global Cruise Conference, one of the most significant events in the maritime industry. Our participation at the conference not only provides an excellent opportunity to showcase the many benefits of doing business in Freeport and attract new investment interest; it also keeps us on the cutting edge with global trends, industry developments, and the direction of sustainability in cruise tourism for the benefit of our economy." 
Ian Rolle, President of GBPA, emphasized the importance of the conference in driving economic growth and development in Grand Bahama, saying, "Our participation in the conference reflects our ongoing commitment to creating an environment that fosters economic growth, sustainability and innovation within Freeport's investment landscape. We are proud to showcase the many businesses and attraction offerings on Grand Bahama, as well as investment opportunities available in Freeport. We look forward to engaging with industry leaders, investors, and other key stakeholders."
Derek Newbold, Chief Investment Officer, added, "We are excited about the opportunity to connect with industry leaders face-to-face and highlight the unique value proposition of Grand Bahama. We believe that our participation at the conference will aid in our efforts to continue building interest for the island."
Licensees traveling with the Invest Grand Bahama team from Freeport included executives from the Grand Bahama Chamber of Commerce, Freeport Harbour and Freeport Container Port Companies, H. Forbes Private Charter, Pelican Bay Hotel, Elnet Maritime, Bahamas Distilling Co Ltd., Leslie's Trades & Logistics, Pirates Cove and Zipline Waterpark and Margaritaville at Sea.
"Invest Grand Bahama, with sponsored partners, including the Grand Bahama Chamber of Commerce, was in top form at the SeaTrade Cruise Global event," said President Carey, of the Grand Bahama Chamber of Commerce.
"Activity was brisk, and clearly, there is a high level of interest in Grand Bahama. Partners were determined, cohesive and focused; only positive results will accrue. The "team" was further buoyed in their efforts with a visit to the GBPA booth by Deputy Prime Minister I. Chester Cooper, Vice Chair of GBPA Sarah St George, and President Ian Rolle. We are anxious to return home after this event and reap the benefits which will come," Carey added.
                                                                                                                      ###