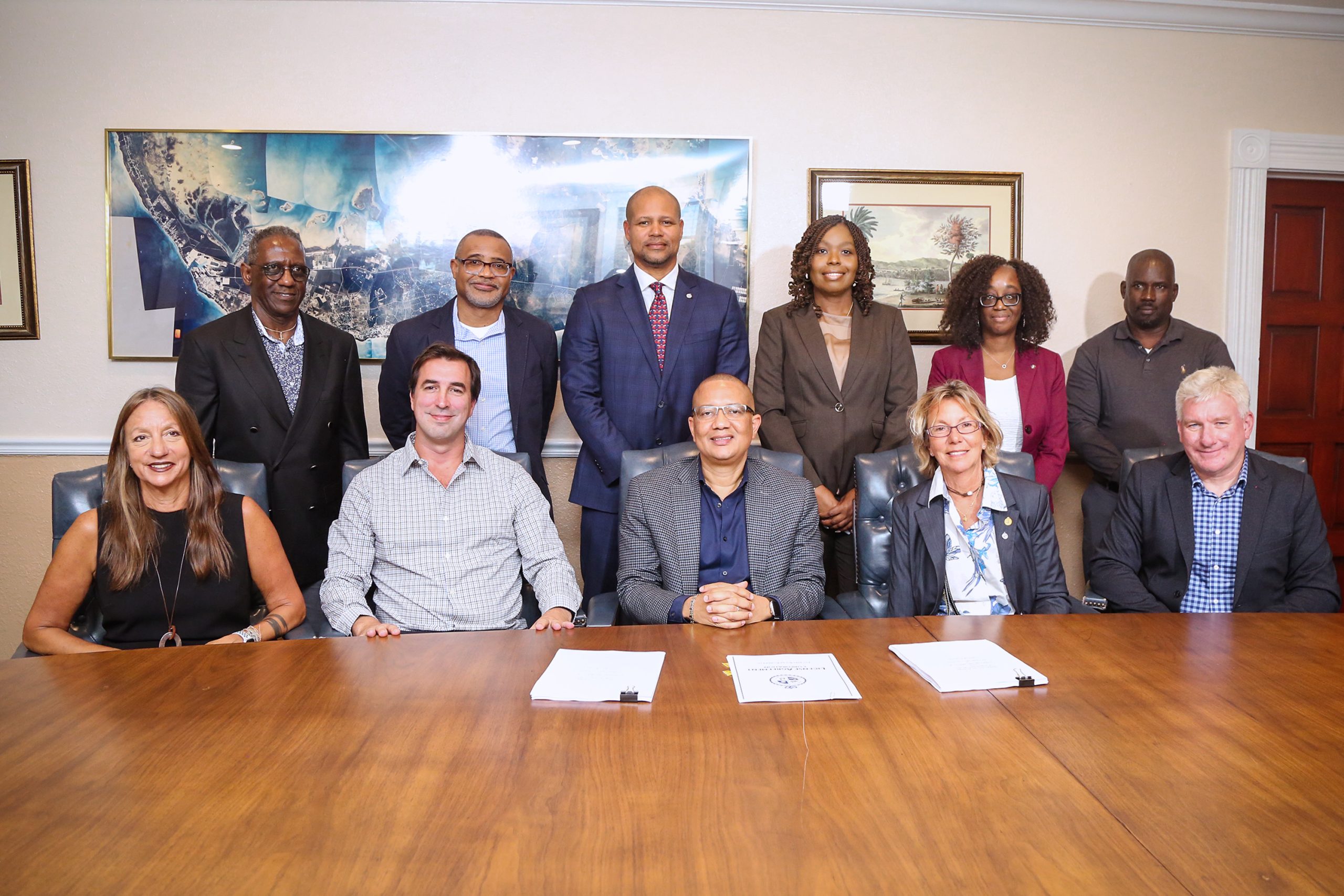 The Grand Bahama Port Authority, Limited (GBPA), along with the Grand Bahama Power Company (GBPC), Lucayas Solar Power LTD.(LSP) and the Inter-American Development Bank, held the official contract signing for the country's first utility scale solar plant on March 16, 2023. Construction on the $15 million, 9.5-megawatt solar plants at Devon (4.5MW) and Fairfield (5MW) are scheduled to begin this month, with an estimated 80 jobs projected during the peak of construction.
Derek Newbold, GBPA Chief Investment Officer, was thrilled to see over five years of hard work come to fruition. "We have been working with the GBPC, Lucayas Solar Power and its investors on this deal for quite some time," Newbold commented. "Of course, we had to contend with a myriad of challenges stemming from a catastrophic hurricane and global pandemic, which created a level of economic uncertainty. Nonetheless, this undertaking highlights the fact that we have committed equity partners who are fully invested in the success of this project and the transformational impact it will have on the electricity sector, in Grand Bahama.
Lucayas Solar Power Chief Executive Officer, Jorge Marquez spoke to the technological advancements, climate resiliency and inclusivity of the installation. "This project is innovative on several fronts. We will be employing the latest in generation control, monitoring and remote security systems and, with the help of IDB-Invest, we will be implementing a gender program to include women in the construction phase." According to Marquez, 70% of the solar plant's design and engineering is currently being led by women. Taking into consideration lessons learned from Hurricane Dorian and previous storms, he added that they will be using top-quality equipment and materials developed for extreme weather conditions, including solar panels that will be 67% more resistant to the force of winds than standard panels.
The two plants located at Devon and Fairfield, are slated to be completed by Q1 2024 and will be an Independent Power Producer (IPP) to GBPC by way of a direct tie-in to the existing power grid. Dave McGregor, GBPC President, explained the significance of this project for island residents. "Not only does this project represent a small step in reducing our carbon footprint and supporting the Government of The Bahamas' green energy mandate but allows us to replace a portion of our heavy fuel profile with a renewable source."
McGregor added that GBPC will be able to purchase the available megawatts from the two plants at a locked-in average rate of $0.09 per kWh for the 25-year duration of the Power Purchase Agreement (PPA). "Customers benefit because we are able to increase our generation availability without having to make a substantive capital investment in additional generation ourselves and it helps smooth out a portion of the fuel charge with the solar cost which is less volatile than heavy oil prices."
According to Sarah St. George, GBPA Acting Chairman and Chairman of the Regulatory Committee, "This development represents the very first utility scale solar plant in The Bahamas and places Grand Bahama as a renewable energy leader in this country. Our Operating Protocol & Regulatory Framework Agreement implemented in 2013, which is another first of its kind in The Bahamas, sets forth the mechanisms that allow for these prudent and revolutionary investments that benefit the residents of our island."
Please stay tuned to GBPA's website and social media pages for further news and updates on this historic project.
# # #