May 13th, 2022 – Freeport, The Bahamas – The Grand Bahama Port Authority, Limited (GBPA) and Invest Grand Bahama (IGB) were pleased to exhibit at the SeaTrade Cruise Global annual conference at the Miami Beach Convention Center late last month, heralding their message amongst the hundreds of rival destinations that, 'Freeport on Grand Bahama Island is Open for Business'.
After a three-year absence, the highly anticipated event brought together thousands of cruise executives, decision-makers, destination representatives and leading industry brands for the first in-person gathering since the start of the global COVID-19 pandemic.
Throughout the four-day networking, promotional and education event, held April 25 to 28, GBPA officials met with industry executives to discuss current development projects, and prospects for new investments across Freeport's diverse and multifaceted economic sectors. Reiterating Freeport's presence and readiness for new investment, GBPA's President Ian Rolle and Chief Investment Officer Derek Newbold spoke candidly with interested parties regarding key projects coming to Freeport.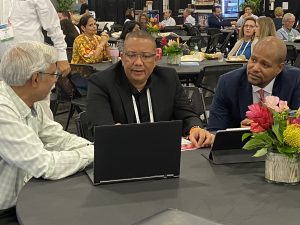 "We are entertaining prospects for new projects across several sectors, including Technology, Tourism & Hospitality, Trade & Logistics, and Real Estate development for commercial and touristic residential projects," Mr. Rolle explained. "Freeport is ready and open for business.
"With the resurgence of the global cruise industry, our executives at GBPA worked to position Freeport positively for new opportunities," Mr. Rolle continued. "Freeport is already gaining traction and, by capitalizing on our strategic location, investor-friendly environment, and ease of doing business policies, these efforts are bearing fruit. With the recent ground-breaking of Carnival's newest and largest cruise port investment, alongside the announcements for the multimillion-dollar redevelopment of the existing cruise port at Freeport Harbour, Freeport continues to attract the attention of globally recognized brands expressing keen interest in establishing a presence in Freeport," Rolle added.
SeaTrade Cruise Global is an iconic industry event and focal meeting point where stakeholders across every gamut of the cruise and hospitality sectors convene for networking and promotions to keep pace with cutting-edge industry advancements.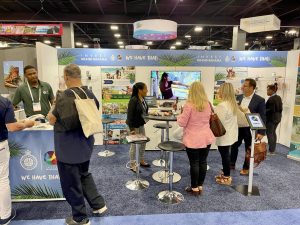 According to Derek Newbold, it was important for stakeholders to gather to discuss new improvements, address pain points and highlight industry innovations that affect or impact consumers at every level.
"Freeport's presence at this year's event was critical," he expressed. "Post-Dorian and COVID, it is essential that key market representatives are aware that Grand Bahama is rebounding at a significant pace and that we are open for business."
Among GBPA's primary objectives was to promote the very best of Freeport for leisure, lifestyle, and investments. "With the support of our partners Pelican Bay Hotel, Grand Bahama Nature Tours, Margaritaville at Sea and several others, Grand Bahama and Freeport were well represented," Newbold continued. "We met with several senior executives from the technology, real estate development, events, entertainment, and value-addition sectors. We are extremely encouraged by the growing interest in Freeport and believe that GBPA's focus and commitment to investment attraction will continue to benefit Freeport and Grand Bahama over the coming months and years."
Discussions are already underway for 2023's SeaTrade Cruise Global event, with increased participation and collaboration between all stakeholders.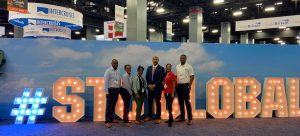 "The Bahamas is a multifaceted destination with unique experiences from island to island. We want to showcase the very best of Freeport and Grand Bahama Island and we believe that, with the feedback and input from the partners who joined us at this year's event, we are off to an early and exciting start," Newbold concluded.
  ###