Empowering the next generation – Pictured is Dr. Lethia Jackson, Chair for Technology & Security at Bowie State University, working with a SEED program participant during the pilot launch on April 2nd, 2022 at the Sunland Baptist Academy Campus.
The SEED program (STEM Empowerment & Educational Development) is a further initiative of the Grand Bahama Port Authority Limited (GBPA) to enhance STEM (Science, Technology, Engineering, Maths) development in local high schools.  It is garnering positive attention among Bahamian STEM professionals abroad, and educators within institutions locally. Its aim is to advance Freeport as a technology hub, galvanizing critical support to sustain a robust industrial sector.
On Saturday, April 2nd, 2022, GBPA collaborated with the Bahamas Technical & Vocational Institute (BTVI) and ALIV to host a pilot STEM coding workshop facilitated by STEM Board. The one-day event gave 50 Grand Bahama students (Grades 7 to 9) interactive, hands-on lessons on the basics of coding. Using STEM Lingo coding kits, students learned to create a sensor commonly used in autonomous vehicles such as Tesla.
GBPA's pilot workshop is the initial phase of the SEED program and enabled a broader understanding of resources and partnerships required. Derek Newbold, GBPA Chief Investment Officer, explained that GBPA's overall goal is to implement the program within all high schools and adult learning institutions in Grand Bahama.
"SEED is a major initiative of the REEF collaborative vision to cultivate strong STEM skills on Grand Bahama as part of its strategic plan towards becoming the Technology Hub of The Bahamas. We are working in alignment with the REEF plan to realize a set of collective goals," Newbold stated.
Through collaborations with BTVI, there is now a pipeline transitioning students from the SEED Program into BTVI's Dual Enrollment ICT Program, "Newbold continued. "This translates into students receiving STEM education and exposure throughout their high school lives (Grades 7 to 12) and earning college credits from as early as the 9th grade. Further, BTVI was also able to establish an MOU with Bowie State University, a SEED program facilitator, that would allow students to complete two years at BTVI and transfer to Bowie State University to complete their Bachelor's Degree."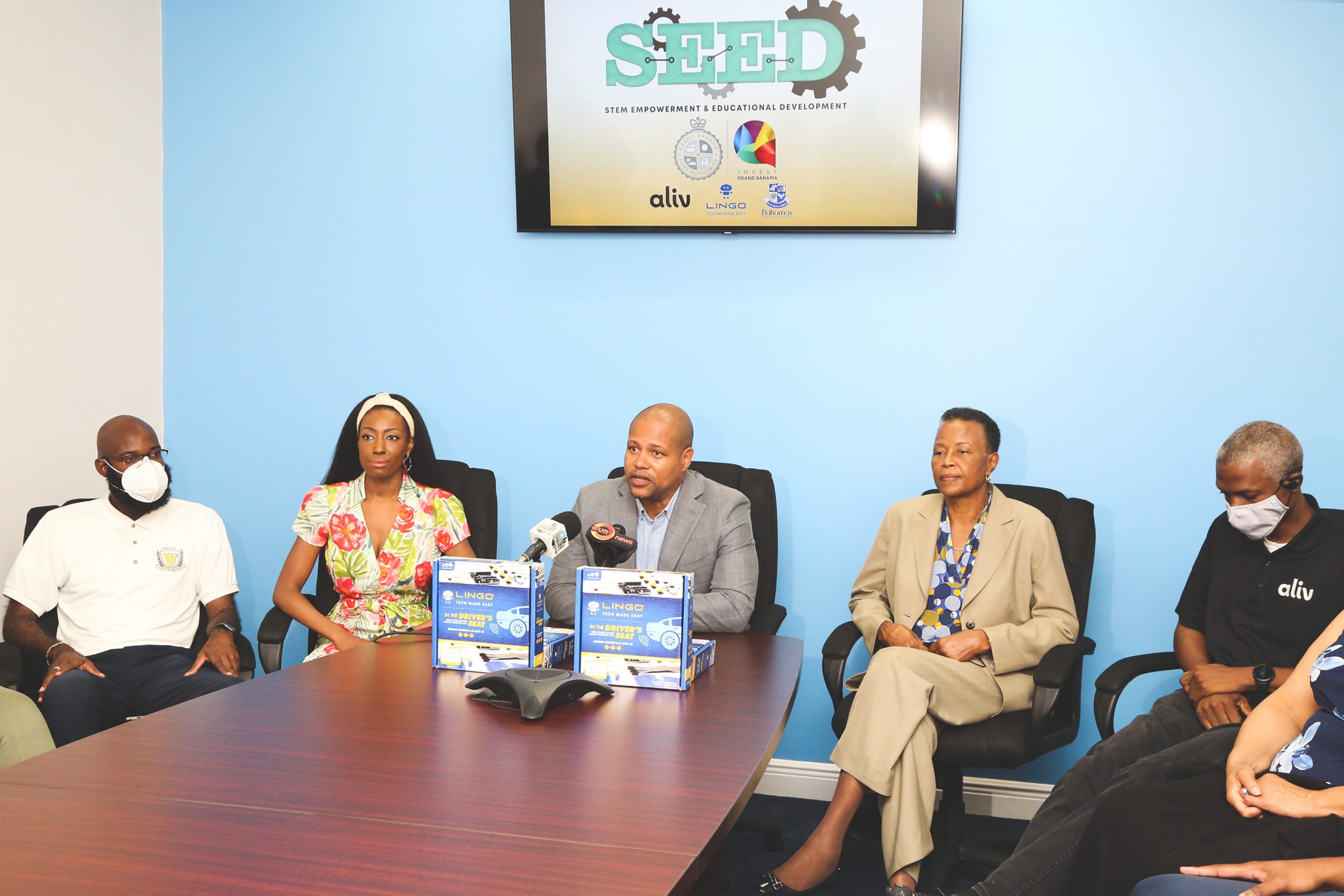 Bowie State University's Department Chair for Technology & Security Dr. Lethia Jackson shared, "I think the students here have beautiful manners; they want to learn and they're hungry to learn. They have many wonderful role models right here for them to see that this is possible, and this can be done. Numbers can't measure this type of investment in community growth by GBPA; it represents livelihoods and generational wealth. It would be a whole different look for the community."
"As a result of SEED, we were able to begin engaging with a Sr. Security Engineer at IBM, discussing opportunities to implement IBM's P-Tech and SkillBuilds Programs here on Grand Bahama, which could include adult education as well," stated Trevor Simmons, GBPA Business Development and Marketing Officer. "We plan to grow and develop a curriculum that educates students on various STEM subjects such as artificial intelligence, blockchain technology, agri-tech, cyber security, biometrics and much more. GBPA envisions a year-round program that provides continuous education and puts students in the best position to jump-start their pursuit of a STEM-related career path."
Partners on the SEED initiative are already mapping the framework for an upcoming STEM training for Q3 2022, with plans to add additional schools. More information on the program will be shared in the coming weeks via www.gbpa.com and relevant social media outlets.
###