Each anniversary of Independence, we honour our forefathers for their invaluable contributions to building this small, but great and proud sovereign nation. It has been a challenging ten months for all Grand Bahamians and, at this time of Independence, the Grand Bahama Port Authority, Limited (GBPA) thought it fitting to honour those who so tragically perished in Hurricane Dorian.
On Tuesday, July 14, alongside the victims' families, the GBPA honoured thirty-one lives lost last September with the unveiling of an elegant cross at the Sir Jack Hayward Bridge.
"This monument commemorates all those so cruelly taken from us in the most destructive hurricane experienced by our island in recorded history," said Sarah St. George, Acting Chairman of the GBPA, in her remarks at the unveiling. "In a way, this follows from the joint Ecumenical Church service we held at the Jubilee Cathedral just before Christmas with Reverend Dr. Lockhart, Bishop Godfrey Williams, Cecil Thompson and Lady Henrietta. We wanted to create a lasting memorial and, with the input of distinguished representatives of the clergy, we agreed it should take the form of a cross – yes, a symbol of pain and suffering, but also of faith, hope, love and, most importantly, eternal life.
We have all been deeply affected by the devastation, and we have weathered many storms, but none in which so much human life was sacrificed. The names of the thirty-one Grand Bahamians lost, among them children and the elderly, including those we laid to rest and those still missing, are etched on a plaque at the base of the cross for all time."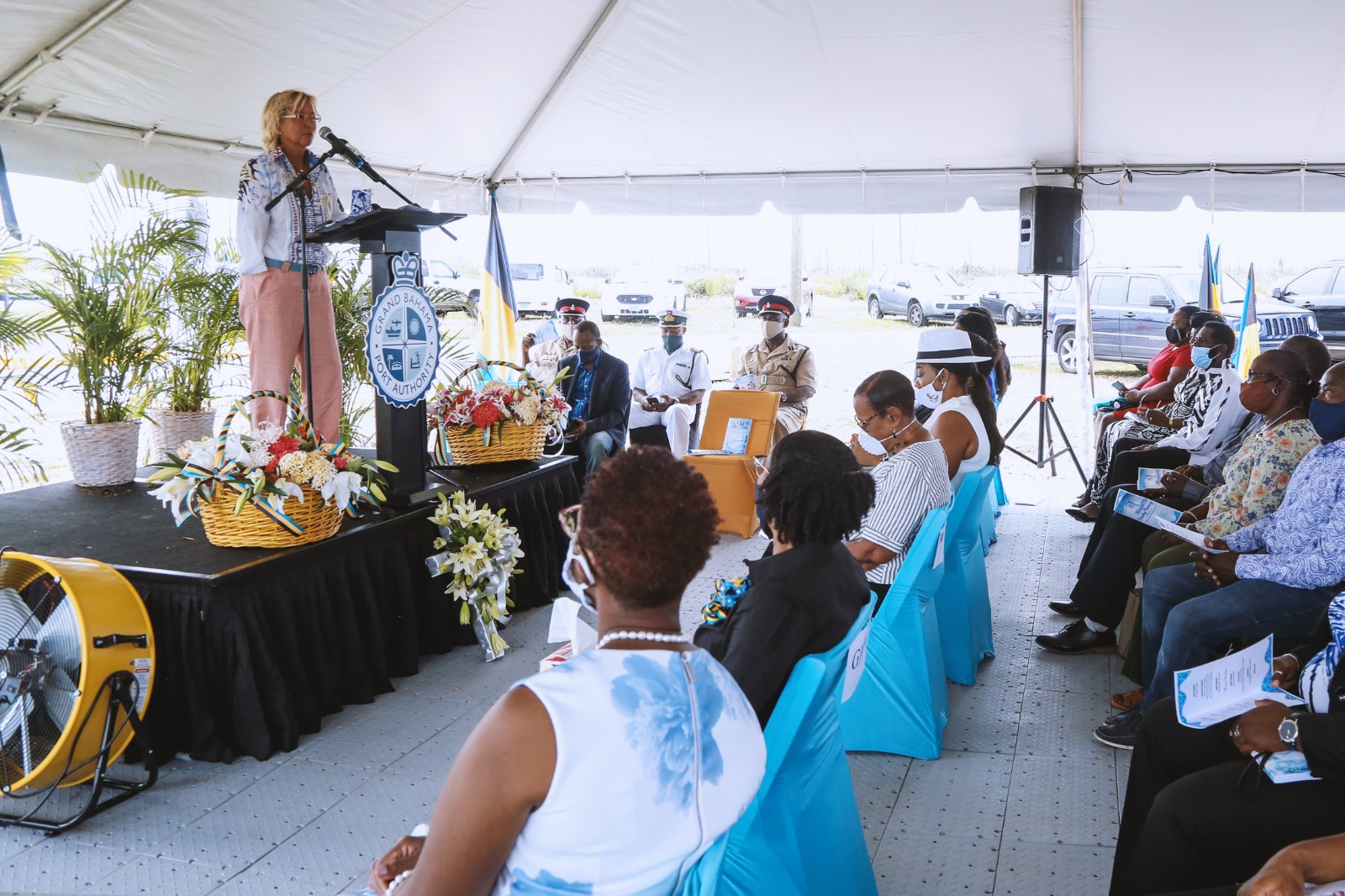 The solemn event took place at the monument site by the Sir Jack Hayward Bridge spanning the Grand Lucayan Waterway, where the earliest rescues by jet ski and boat, took place following Hurricane Dorian. "East of the bridge are those communities who were most tragically impacted, and this cross is placed here so all who pass evermore may pause for reflection," continued Miss St. George. "It stands small and humble, but proudly exposed to the elements, easily visible and accessible to everyone. That was the objective."
Miss St. George explained the design of the cross: "It features an open interior, representing a gateway allowing light and air within, and also to symbolize resilience – not in holding back the forces of nature, but in allowing them to blow through us and leave us standing. We see the light on the horizon to infinity. In the demure decoration, we can see our famously beautiful sea and sky in a mosaic of blues; a bright, clear and serene blue, with glimpses of a stormier and more serious facet in the depth of the navy blue. The graduation of blues depicts the souls of the departed being carried by the hand of God from the sea safely up to heaven."  
Joining the GBPA and Grand Bahama families for the unveiling was Deputy Prime Minister the Honourable K. Peter Turnquest, Member of Parliament for East Grand Bahama. In his address at the event, Mr. Turnquest shared messages of hope. "The joining of our hearts and hands will continue to make the load we bear lighter. We've had hard times before, and we will get through it again step by step, with diligence, with patience and with courage. The unveiling of this monument cements the fact that our recovery demands a unified approach. We are in this together and we will get through this together. On behalf of the Government, I commend the Grand Bahama Port Authority and its partners for this kind gesture. I also commend the Grand Bahama Port Authority on its RISE Program, its humanitarian assistance to the residents on the island through their Foundation, and for partnering with us in the Small Business Development Centre to assist entrepreneurs throughout the length of this island. Many who died were my friends. Some, who are still missing, I know personally. I've visited and shared with those persons, in homes now shattered and destroyed. Monuments like this are erected to help ensure that we never forget what happened September 1st, 2019. It is also a tribute to all of the survivors and frontline workers. May God continue to bless each and every one of you, and may He continue to bless our wonderful Commonwealth of The Bahamas."
Miss St George expressed sorrow for all families still mourning the loss of their loved ones and to those who are still displaced, or struggling to rebuild their homes and lives. "Now, let's recognize and pray for those among us today who suffered the terrible loss of a child such as young Omarion, aged 7, and the little twins Aaron and Adam, aged 3, the loss of a beloved wife, husband, a mother or father, a sister or brother, some a whole family. This monument is for you and your families."
She continued: "Let's also pause and reflect on the blessing of family, friends and community, and the soul of our churches and the work of all government, hospital and humanitarian organisations here, and those in uniform – the Police Force and the Defence Force. Let's also remember our neighbors and relations in Abaco.
"When we consider how far we've come, we find the Will to go forward," added Miss St. George. "Today, it is also fitting to celebrate the many miracles of our survival – hundreds of lives saved, care and compassion among communities, and aid from our international friends far and wide. In the immediate aftermath of Hurricane Dorian, when the wind was still howling at a dangerous Cat 1, 75 – 95 mph, many of our gatekeepers left the safety their homes and put their own lives at risk to save others. Who can ever forget the images of those heroic figures on jet-skis, on boats, in loaders, soaked to the skin, battling wind, rain and sea to rescue people they perhaps had never met before? It will forever be engraved on our hearts. Again, I just want to say that what you did will never be forgotten. Thank you."
Some of the incredible stories of survival and grief have been recorded in an exciting new book, just published, called "The Water Has Come" by Grand Bahamian author Keldra Pinder. Copies of the book were gifted to families and those present at the unveiling.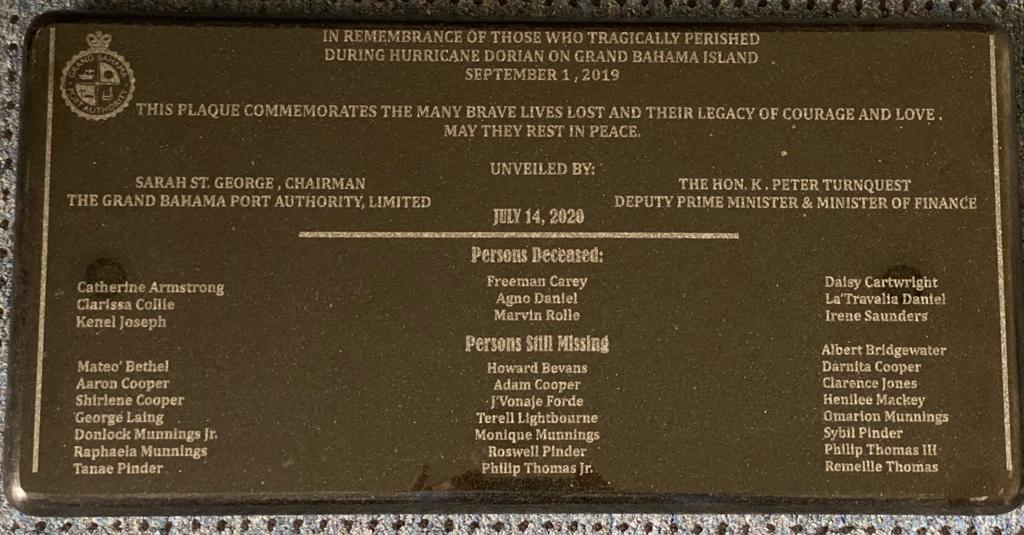 The moving event also included Jay Mitchell singing, "We Bow Down & Worship, Yahweh", "Ride Out the Storm" from Rudy Roberts, "Holy are You Lord" by the Grand Bahama Youth Choir and "You are so beautiful" sung by Sherika Bastian.  Close relations of the departed who were present at the event were acknowledged by name, and provided with beautiful floral bouquets of lilies and wild flowers, which they reverently laid at the base of the monument.
In closing, Miss St. George added, "I believe monuments such as this help to connect us even more powerfully. I also hope it will provide some closure to this turbulent chapter, and give us renewed unity and hope as we mark our 47th year of Independence. Sometimes He parts the sea for us, sometimes He walks on water and carries us through, and sometimes He just hushes the storm. Where it seems there is no way, He will make a way. This cross reminds us that we stand shoulder to shoulder with the families that have lost their loved ones far, far too soon, and to remember those departed and those still missing, whom we may never see again in this life. May their Souls Rest in Peace."
                                                                                               ###