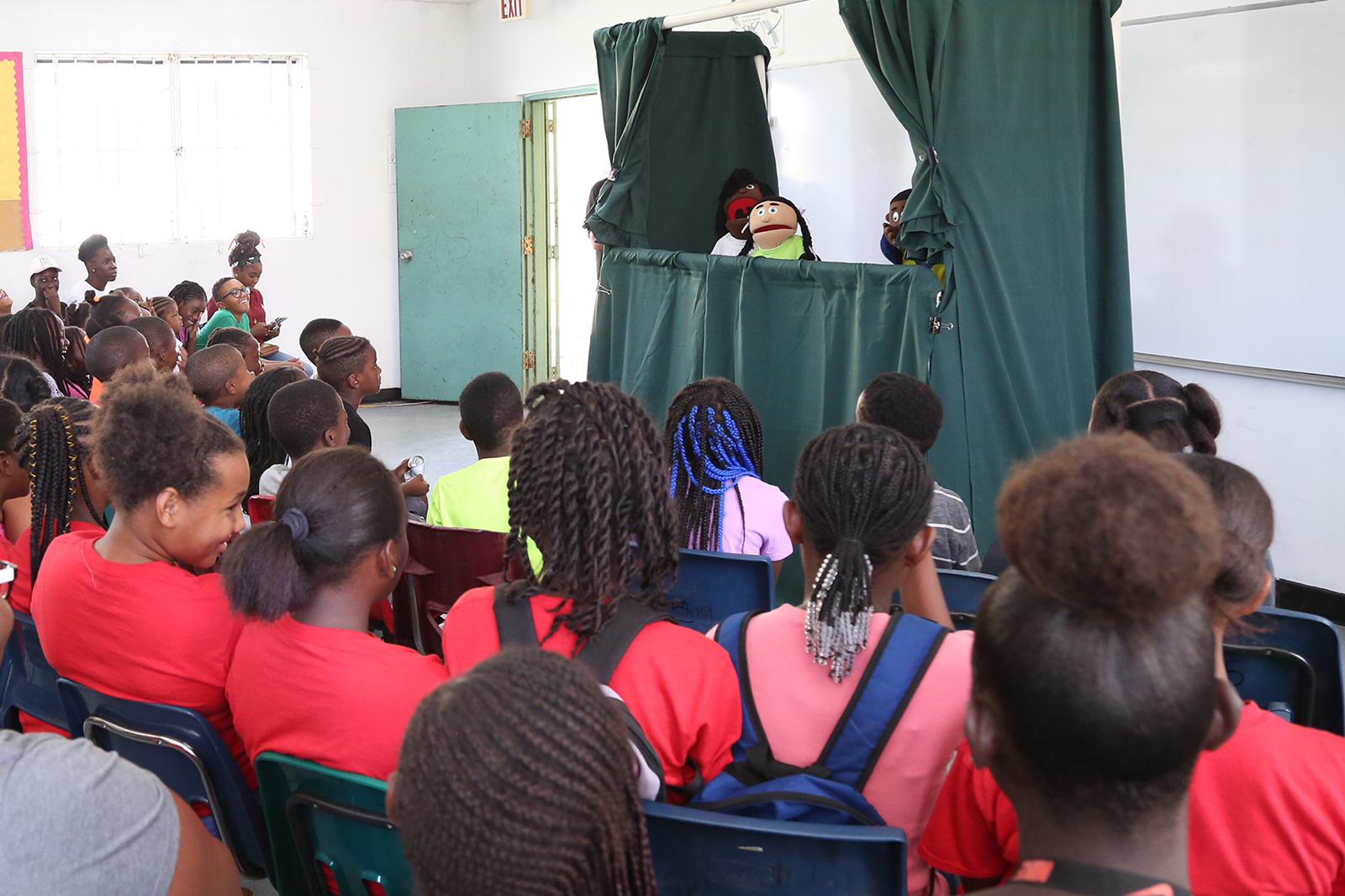 Armed with a chest of colorful characters, the Keep Grand Bahama Clean (KGBC) Committee was back on the road this Summer spreading the message to campers from east to west about the role they can play in keeping the island clean.
The team's latest stop was the St. George's High School where the Royal Bahamas Police Force (RBPF) South West Division Youth Summer Camp was in full swing. The youngsters were treated to a puppet show and learned as Lisa, an environmental inspector, schooled two students, Candice and Chris, on the dangers of littering and the importance of maintaining a healthy environment.
The entertaining skit is laced with some laughter but conveys a serious message, said Grand Bahama Port Authority (GBPA) Director of Building and Development Services Mrs. Nakira Wilchcombe, who is chairman of the KGBC Committee. Instilling that message in children is key, so they in turn can encourage their parents to do the right thing.
The campaign, geared at discouraging littering and indiscriminate dumping, was initiated 12 years ago with formal presentations. The committee has since doubled its efforts by reaching out to the younger generation and introducing puppetry, thereby targeting the camps each Summer. 
"We know that they are agents of change, so we hope to begin with them so that they can be our future leaders of doing it the right way," Wilchcombe said.
The campers were taught about the harm throwing trash from cars causes and heard familiar phrases such as, "use a bin to put it in."
"We want to encourage all of our residents on this island to do their part. It's not a funny thing. Lately we're seeing more and more litter and so all of us have a responsibility and role to play in keeping our island clean. It's not just for visitors, it's for us, our children and so we just want to encourage residents to do the right thing," Wilchcombe added.
The KGBC committee has partnered with the Bahamas National Trust (BNT) whose Education officer, AnnMarie Carroll, quizzed the campers on what they learned and explained that the BNT's role is to manage all national parks in the country.
Camp Coordinator, Police Sergeant Lamardo Bowe noted that programs, like the one the KGBC committee manages and the beach and area clean-ups the RBPF supervises via its camps, are great initiatives that will make the younger generation more conscious of the importance of environmental awareness and conservation.
                                                                                             ###