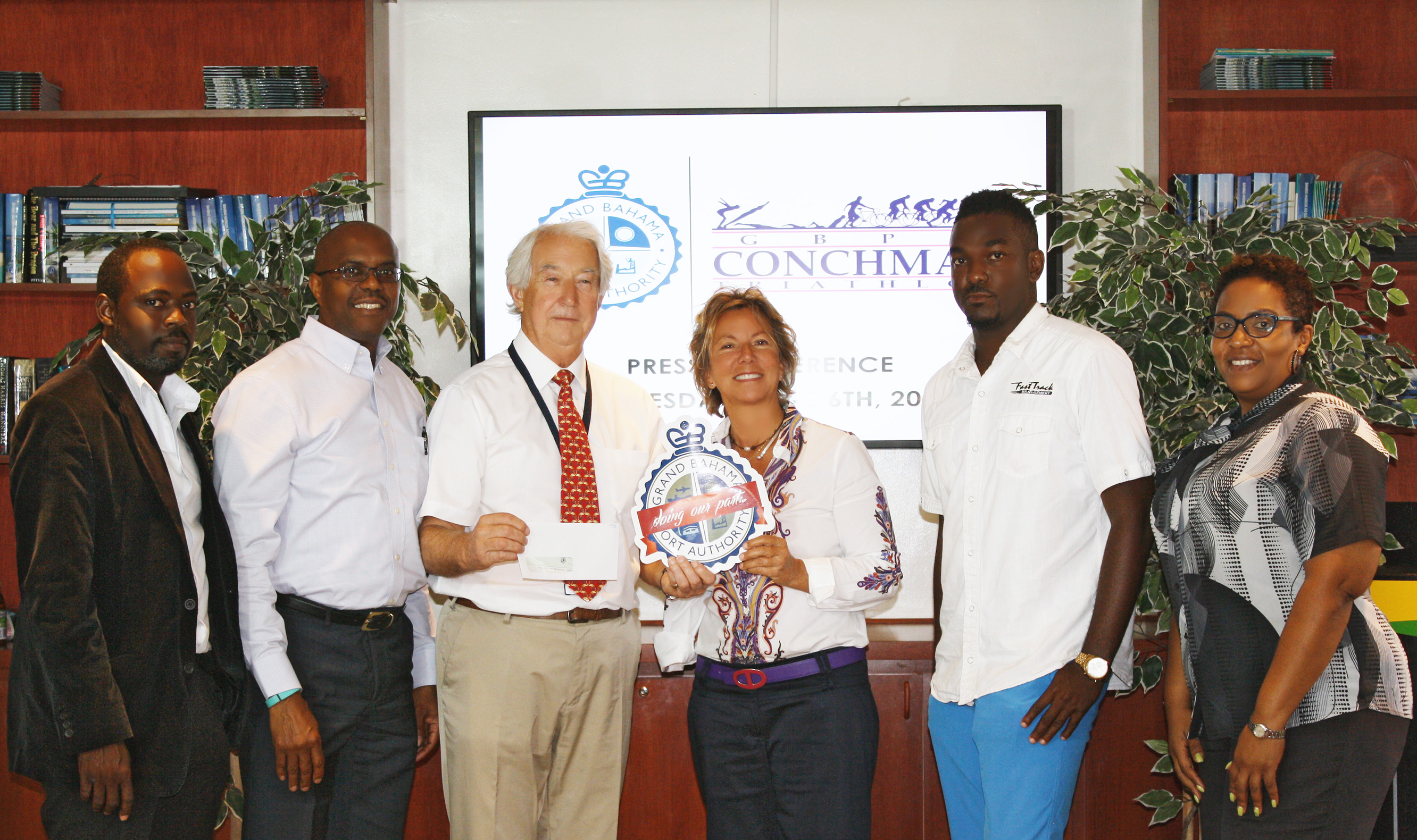 Wednesday, June 6th, 2018 – The Grand Bahama Port Authority (GBPA) is delighted to be the title sponsor of the 2018 Conchman Triathlon event, for the third consecutive year.   Since inception, the Conchman Triathlon always takes place on the first Saturday of November each year and is a successful and long-standing event on Grand Bahama Island.  This year marks the 32nd Annual GBPA Conchman Triathlon, which will be held on Saturday, November 3rd, 2018 at Taino Beach. 
Sarah St. George congratulated Chris Baker, Ravanno Ferguson and their team for organizing this 32nd Annual Conchman Triathlon.  She stated "It's a great credit to the Conchman organisers who have hosted this event every year, for over 30 years.  So it's part of Grand Bahama's history now!" She further stated "It's one of our favourite Sports events as it combines three athletic activities – running, biking and swimming. You can be a triathlete and do all three, or just a plain athlete and do only one section by putting together a Relay Team. That's why this event has something for all ages from 9 to 90, from the Iron Kids to the golden oldies like myself and Chris.     Sarah St. George stated "It also combines a range of skill sets so there are Olympians competing side-by-side with those, for example, with physical challenges like Hector Picard who as you know is a double amputee and an International Triathlete star.  Hector is an inspiration to us all when he visits the island and will also be talking to High School students about empowerment in the face of physical challenges."
Sarah St. George encouraged everyone and particularly school students to start thinking about putting their teams together.  You've heard the early bird catches the worm, and early registration is cheaper.  This year there will be breakfast and lunch provided by The Rotary Club, cold drinks and Sands Beer for the grown-ups, music and entertainment. There will be great prizes for the student teams this year. So once again, we need lots of high schools to participate.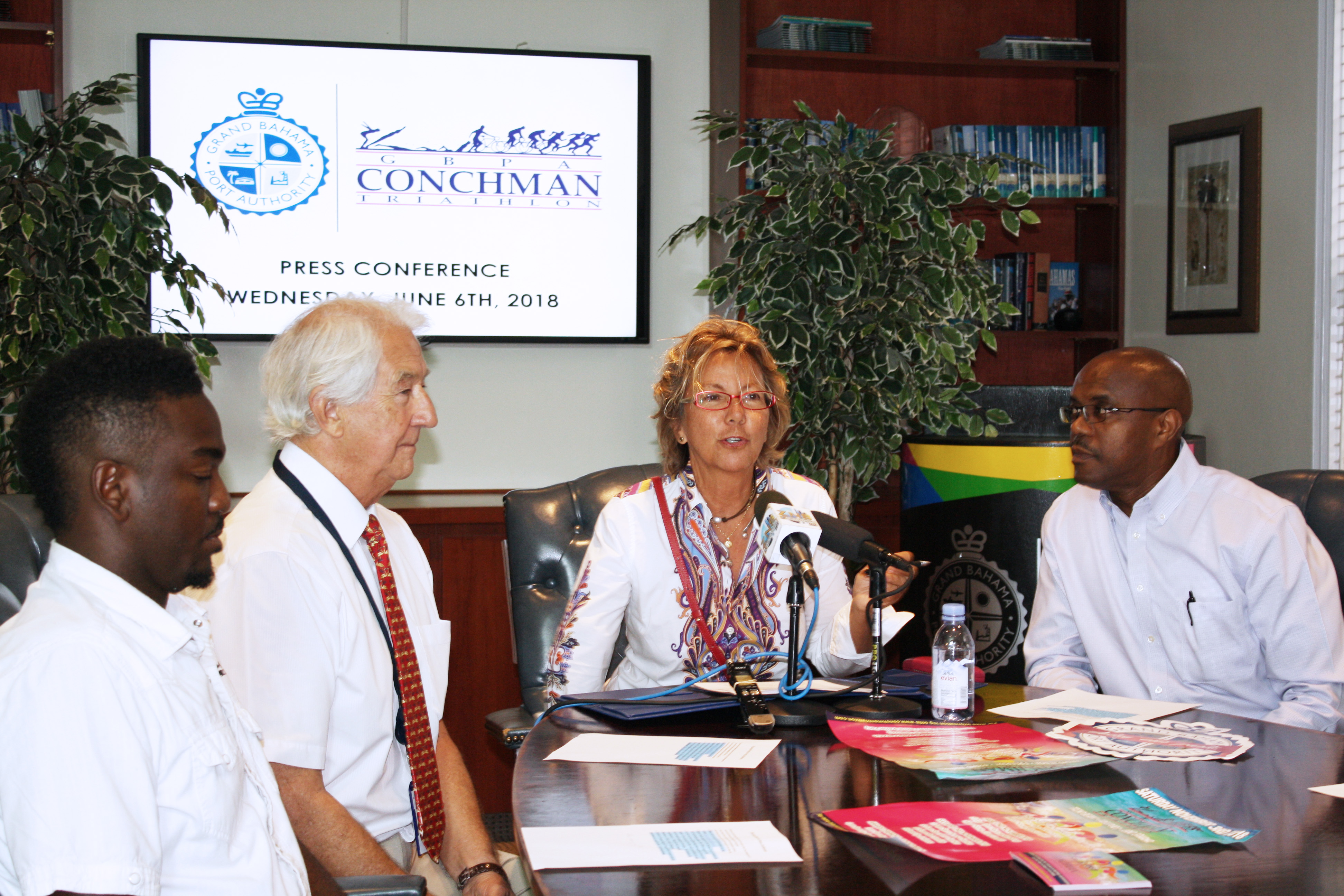 Christopher Baker, Chairman of the Conchman Triathlon, reiterated St. George's enthusiasm and also highlighted the new safety measures.  "Bike helmets are now mandatory for all cyclists to participate in the Conchman Triathlon," stated Baker. "We have event sponsors who will be providing the helmets on the morning of the event to ensure that all cyclists have the chance to participate whilst adhering to the safety regulations set forth by the committee."  Baker noted that the Triathlon has received huge support from local secondary schools in past years, in terms of participation; and the same can be expected this year.  He stated, "Our secondary school competition is keenly contested and there will be a prize of $600 for the winning school, $300 second place, and $100 third place."
Ravanno Ferguson of Fast Track Management, encouraged the Grand Bahamian community to visit the website: 'active.com', to sign up for early registration. He spoke to "the expected increase in participants for this year's event, not only on a national scale, but casting the net as wide as America and Europe."  Charles Pratt, Senior Manager of the Grand Bahama Port Authority, and Conchman Triathlon Committee member, views this event as "a great opportunity for local and national involvement and support, as well as a means to showcase athletic talent amongst our youth."  Pratt also stressed the importance of the Conchman from a health perspective and emphasized how crucial it is for people to remain healthy and active in order to combat the various non-communicable diseases that plague our nation's population.
The collective efforts of the Conchman Committee have resulted in the Triathlon becoming one of The Bahamas' most notable sporting events.  The GBPA believes that the upcoming Conchman Triathlon promises to be an exciting, challenging and fun-filled race for people of all ages to enjoy; and conference attendees encouraged the community to participate and cheer for loved ones.   In closing, Sarah St. George urged, "Let's get out; get organized; start getting fit; get on the road; get on your bike; and in the ocean!  The next months will fly by and we don't want you to miss out!"